Wexford 9-06, Louth 4-08
Report by Julie Fitzpatrick
Louth U16's made possibly the longest journey (as per the bus driver Rory) to the sunny south east on Saturday 5th of March, a round trip of no less than 300 miles to play Wexford in the first round of the Leinster Championship in Rathangan.
First half saw the girls play against a ferocious wind and no doubt they struggled to get the ball out of their defence and hence score for the first near 40 minutes. At the first quarter Wexford led 2-3 to no score but an improved 2nd quarter saw the Louth defence hold Wexford to 1 single point and this was a sign to come for the 3rd quarter as Louth with the wind behind them came out a different team in the second half and scored 3-6 in a blistering 15 minutes.
A goal each from Grace Stafford,Sarah Lynch and Mischa Rooney saw the team make a total turnaround and after the 3rd quarter at the water break Louth trailed by a single point as Wexford managed to bag 2 goals and a point leaving a scoreline of Louth 3-7(17 points) to Wexfords 4-5(16 points).
The last quarter saw another fine effort from Mischa Rooney with a goal and a point but Wexford capitalised and scored what can best be considered fortuitous goals and on another day may not have crossed the line, it sent Louth home on the long journey North with only one thing in mind that this was very much a missed opportunity for three points against the girls from the model county.
With a momentous effort to turn the game around, it certainly shows the potential this bunch of girls has as they make the journey to Longford in 2 weeks time.
Scorers
Grace Stafford,Sarah Lynch 1 goal each
Mischa Rooney 2 goals and 4 points(2 points frees)
Lucy Sheridan 2 points
Ciara Boyle and Lucy White 1 point each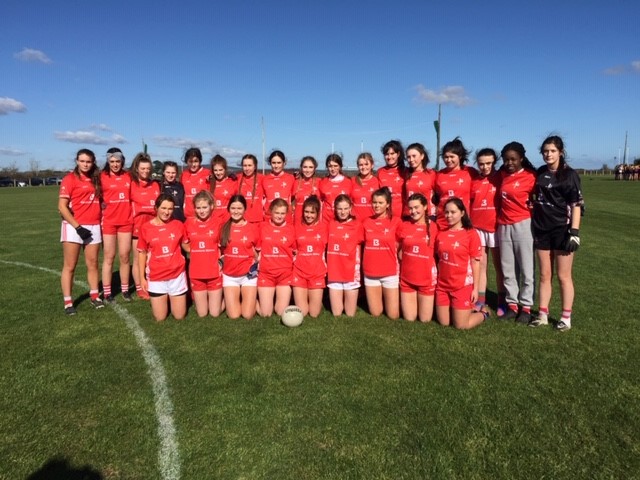 Back Row L-R
Mischa Rooney Hunterstown Rovers
Anna Hickey Hunterstown Rovers (Vice Captain)
Brooke Carroll Glen Emmets
Jeni Deegan Glen Emmets
Ellen Callan Cooley Kickhams
Lucy White Cooley Kickhams (Captain)
Niamh Leonard Wolfe Tones
Chloe Mc'Carragher Cooley Kickhams
Aine Murray Naomh Fionbarra
Sarah Lynch Hunterstown Rovers
Nessa Norton Geraldines
Leah Cunningham St.Kevins
Darcey Devlin Mattock Rangers
Leah Hughes Geraldines
Grace Stafford Glen Emmets
Yasmin Ibrahim Newtown Blues
Alice Kearns Mattock Rangers
Front Row L-R
Katie Mulligan St.Josephs
Ciara Boyle Cooley Kickhams
Eimear Callaghan St.Marys
Eili Ryan Naomh Mairtin
Brigh Mc'Enteggart Kilkerly Emmets
Lucy Sheridan St.Kevins
Vanessa Brennan St.Kevins
Orlaith Daly Cooley Kickhams
Orla O Neill Wolfe Tones