Louth 4-15          Wicklow 2-09
Louth U16 girls overcame Wicklow on Saturday 6th May to claim the Leinster C Championship. After a run to the final that saw the Louth girls beat Carlow, Kilkenny and Westmeath they came up against a physically strong Wicklow team at Kilbogget Park, Dublin.
Wicklow got off the mark quickly with two points from their dangerous forward Aine D'Arcy. But Louth came back into it with two quickfire points from Sophie Everitt who top scored for Louth on the day. The two sides stayed neck and neck for the most of the first half with Louth scores coming from Ciara Boyle, Maggie Holland and Danielle Brennan, along with another Sophie Everitt point. However just before half time, Wicklow got a goal through a quick reaction to a rebound and they went in three points ahead at the break.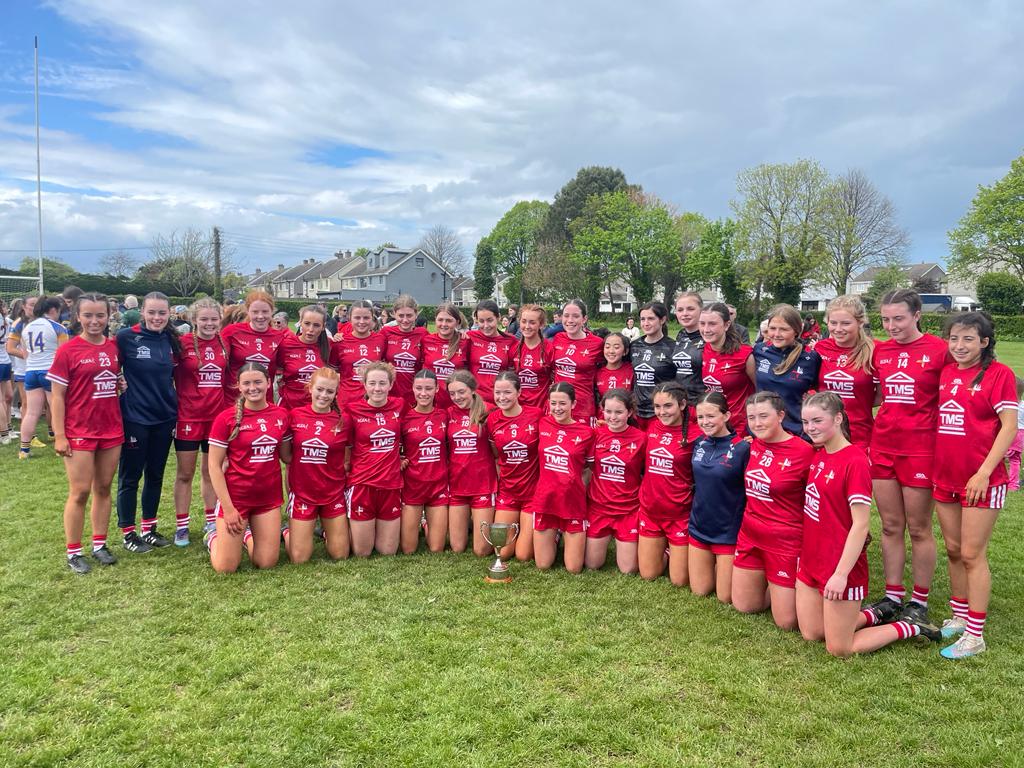 Louth started brightest in the second half with a fine point by Danielle Brennan, this was followed by a Sophie Everitt goal and at this stage it was all to play for, for both teams. Wicklow responded strongly to the Louth goal by scoring a goal of their own from a quick break up the pitch. They followed up quickly with another point, putting them four ahead. But that was as good as it got for Wicklow. Louth goals followed from Ciara Boyle, Erin Gorham and Eimear Callaghan. The Louth full back line of Ailish Fee, Moya Corrigon and Katy McDonald ably supported by the hard working Katie English got fully on top of the Wicklow forward line at this stage and snuffed out the majority of attacking threats.
A run of eight points followed for Louth, with scores from Danielle Brennan, Amy Murray, Jasmine Neacy, Darcy Devlin, Sophie Everitt and Eimear Callaghan. With the half back line pushing up through Caoimhe Callaghan, Amy Murray and Zara Sweeney there was constant pressure on the Wicklow defence. The midfield duo of Eimear Callaghan and Keelan Bewley were beginning to exert dominance under the Wicklow kickouts and the half forwards, Danielle Brennan, Darcy Devlin and Katie English were really finding their range. In the full forward line Ciara Boyle was a constant thorn in the Wicklow defence with her strong runs, while Maggie Holland troubled them at full forward with her ball winning ability. Sophie Everitt in the other corner ended up with 1-06 to her name. The three girls who came on contributed massively, these were Erin Gorham who set up one goal and scored another, Jasmine Neacy who notched a nice point and Leah Pentony who was a constant goal threat.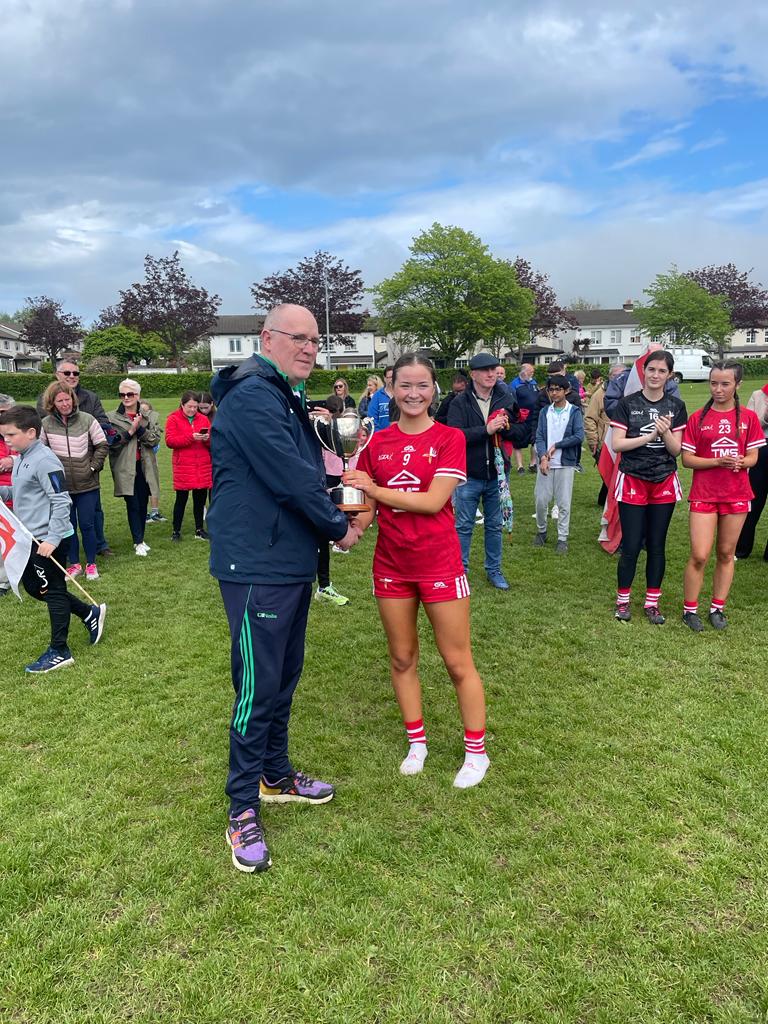 The Louth management team of John Temple, Steven Murtagh, Bernie Reilly, Edel McKeown and Kevin Cassidy were delighted with the result, and especially the application of the girls and their willingness to win the 50 / 50 balls. Next up for Louth is the All Ireland semi final against the Munster representatives in July.
Louth Scorers, Sophie Everitt 1-06, Ciara Boyle 1-01, Eimear Callaghan 1-01, Erin Gorham 1-0, Danielle Brennan 0-02, Darcy Devlin 0-02, Amy Murray 0-01, Maggie Holland 0-01, Jasmine Neacy 0-01.
Captain – Eimear Callaghan.
Panel:
Molly Savage St Fechins
Moya Corrigan St Fechins
Ailish Fee Geraldines
Katie McDonald Cooley
Caoimhe Callaghan Mattock Rangers
Amy Murray St Kevins
Zara Sweeney Stabannon
Keelan Bewley Geraldines
Eimear Callaghan St Marys
Katie English Clan Na Gael
Darcey Devlin Mattock
Danielle Brennan St Kevins
Ciara Boyle Cooley
Maggie Holland St Patricks
Sophie Everitt Wolfetones
Alice Kearns Mattock
Alice Johnson St Fechins
Amy Devine Mattock
Aoife Soroghon Geraldines
Ava Matthews Dreadnots
Maianh Crawford Kilkerley
Erin Gorham Roche
Molly Pepper Mochtas
Grace King St Kevins
Jasmine Neacy Mochtas
Alex Healy Newtown Blues
Katie Sands St Marys
Leah Pentony Oliver Plunketts
Saibh Morgan Cooley
Rose Fagan St Brides
Julie Soroghon Geraldines
Molly Keenan St Marys